Home / Products / Mining Bitcoin (Energy reduction up to 21%)
Mining Bitcoin (Energy reduction up to 21%)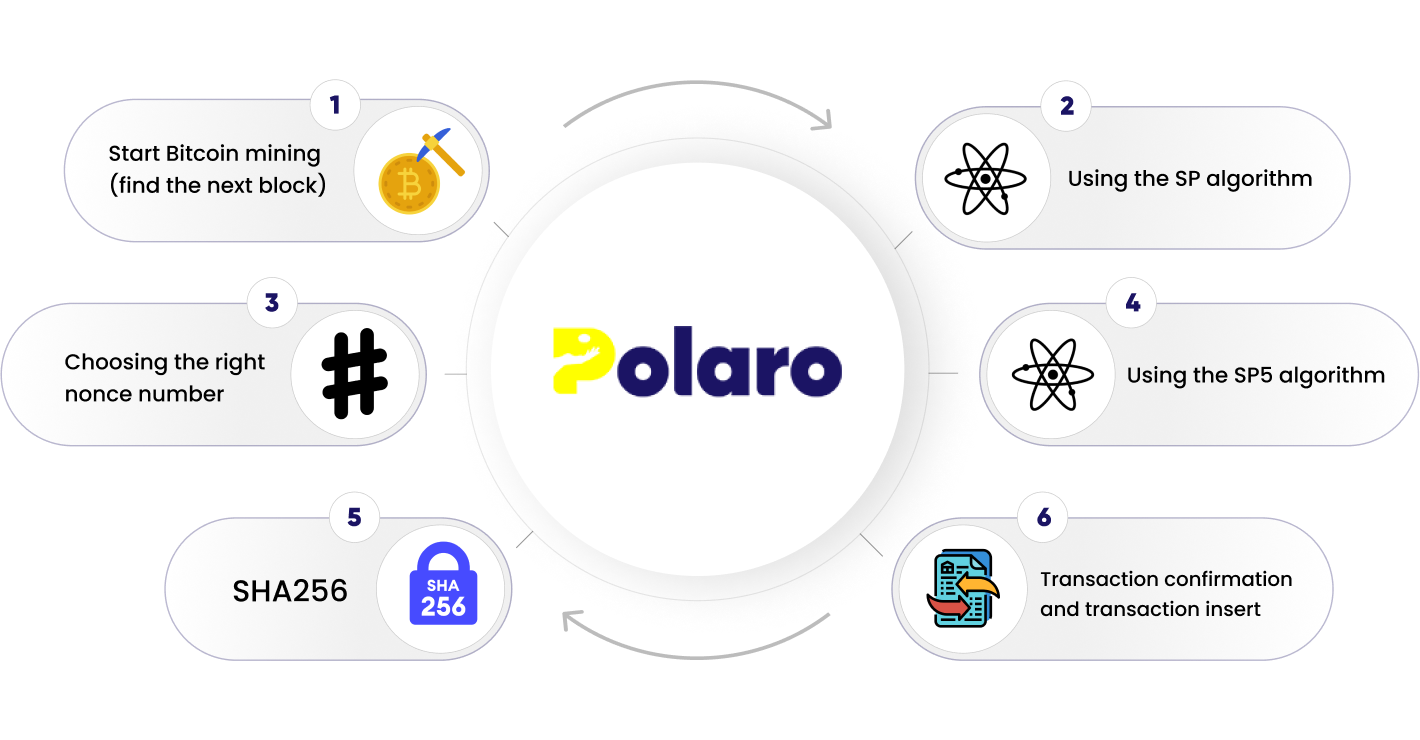 At Polaro, we have prepared a digital product that you can use to mine Bitcoin with 21% less energy.
We have succeeded in reducing the energy consumption in Bitcoin mining by using several different methods together, one of which is the creation of SP and SP5 algorithms.
These two algorithms were created by the Sbp Tarh team and then they were launched in the Polaro project (a subsidiary of Sbp Tarh) and people can start mining with 21% less energy by purchasing the Bitcoin mining digital product.

You will see below the methods that reduced energy consumption by 21%:
1- Before using SHA256, we use two helper algorithms (SP-SP8).
2- Placing a main server (leader).
3- Distribution of energy consumption with the main server and operating system or user server.
4-Construction of pool (by changing the type of search for the next block according to the hashrate of the user's operating system or server).
After purchasing the product and accessing the software, you can easily start mining through your operating system.
Also, if you have a server and cloud server, you can easily connect and start mining.
SP
The SP algorithm is used before SP5.
Features that make SP5 special:
1-Reducing energy consumption for Bitcoin mining.
2- Quick access to the previous hash block.
3- Choosing a better nonce number according to the hash rate of the previous block.
SP5
The SP5 algorithm has 5 functions and is used before SHA256.
Part of this algorithm is simulated from X11, but SP5 has some very special differences that you can see below.
The X11 algorithm was created in 2014, and due to its lack of compatibility with ASIC, it was used less after a while and became unusable over time.
SP5
differences compared to
X11
:
1-Compatibility with ASIC
2- Using 5 functions
3-Less complexity
4- Use before SHA256
Features that make
SP5
special:
1-Reducing energy consumption for Bitcoin mining.
2- Faster finding for a number smaller than the difficulty level of the network.
3-Checking the nonce number sent by the SP algorithm.
4- Changing the method of sending the header.
Finally, the SP and SP5 algorithms together reduce the energy consumption by 21%.
By buying this product, you can do mining in three ways.
1- Operating system
2- Server (ASIC and others)
3- Cloud server (ASIC and others)
Please read the
Terms of Use
and
Privacy policy
in full before purchasing this product.
Price: $4,500